The microscopic little bastards with ice picks protest my departure from Panama City Beach with their most vindictive assault to date. Zoning in on my weakest link, an entire battalion hacks away at my left wrist. I pop a Vicodin before packing my bags, but the bastards shrug off the pain killer like it's a piece of Pez candy. The jinx of the black top hat on the bed in Birmingham is back in full force.
Appropriately enough, I encounter a seventh sub-species of redneck tottering next to my Smart Car in the Holiday Inn parking lot. It's a Mendax Mendaxtrix or "lying liar." She's in her late sixties, and she has a bottle blonde bouffant hairdo and a moo-moo that billows like a tie-dyed parachute.
"Ahm not touchin' yoo-wuh cah," she declares before I can even say boo.
That statement is, to extend the Latin root identifying her anthropological niche, a form of mendacity. Mendax Mendaxrix has the open rear door of her black Chevy Suburban propped against the fuselage of "ma cah," in position to scrape off the Pure Sport wrap.
"No, ma'am, you ain't touchin' ma cah but that gas guzzler a yours sure is," I reply in a mixture of English and rednecklish. "How 'bout shuttin' the goddamn door so I can get the hell outta here?"
Mendax  Mendaxtrix stares at me much like Capus Wrenchus did, a moo-moo cow with a hornet up her ass. She closes the door of her Suburban, and I back out of my parking spot.
"Av a nass daa-yuh," she hollers.
"Go getcha ya a ree-yall laff, you lyin' bitch," I holler back.
I'm aware that isn't the most gallant exit line. So damn what? I've got plenty of reasons to be in a dastardly mood that go way beyond Mendax Futatrix and even the microscopic little bastards with ice picks. Just as I was fixing to check out, I'd heard Federal Reserve Board chairman Ben Bernanke declare in a network television news interview that, "the recession is almost over." 
Guess Benjie the Bearded One and his boss President Obama can thank me and my road trip. To paraphrase Scarlett O'Hara, I've been pumping money into the economy like tomorrow is another day and so is every day after that. I can blame it on the relentlessly rainy weather, which has stampeded me away from cheap camp grounds and into comfortably dry but much pricier motels. I can blame it on my voracious taste for fine food and even finer liquor.
I would prefer, however, to blame it mostly on my now former computer consultant Ozzy Osborne. Under his administration or lack thereof, my web site has suffered repeated malfunctions even as I've attracted a gradually increasing audience. Plus, he's been downright rude. As a result, I've had to hire a new web host named Andy, who's far more competent and creative but charges a whopping $500 per month.
"I'm a human being and I have a sense of humor," Ozzy proclaimed in his last email. "If you want a robot, you can find one on Mars, but the trip's gonna cost you."
Roger that, Captain Jerk.
In the meantime, I can look forward to going yet another light year over budget. The next stop on my itinerary is New Orleans. The Big Easy promises to be many things but inexpensive isn't one of them. Muse is going to fly down from New York to join me for five nights and a spendthrift hedonistic daze. She's paying for her airfare and the hotel, but all the wining, dining, and whining is on me.
###
I shuffle into the baggage claim area at New Orleans Louis Armstrong International Airport singing an off key version of the jazz classic "Ain't Misbehavin'." Because of the sultry weather and my sick sensibility, I'm wearing khaki shorts, the broad brimmed straw hat I got in the Amish country, and a cotton shirt emblazoned with the logo of McIlhenney's Tabasco produced on nearby Avery Island.
"No one to talk with, all myself... No one to walk with, but I'm happy on the shelf... Ain't misbehavin', I'm savin' my love for you..."
Muse comes down the escalator amid an entourage that includes New Orleans mayor Ray Nagin, whom I recognize from his many television appearances in the aftermath of Hurricane Katrina, a CNN reporter carrying a microphone, and a handsome guy in his early forties. She's wearing her most prized position Pucci hat and a beige silk pants suit. When I step forward to embrace her, her cheeks blush redder than the hot sauce bottles on my shirt.
"I see we are going native," she says, turning her head so I can only kiss her on the cheek instead of mouth to mouth.
As the mayor and the CNN reporter go their separate ways, Muse introduces me  to the handsome guy she's picked up on the plane. He's a Navy officer who's served in Iraq and Afghanistan. "Tim is so nicely giving me a list of good restaurants to try in New Orleans," she says.
"Thank you, sir," I say stiffly. "Appreciate your service to our country."
"My pleasure," Tim replies, grinning.
I can't tell if he's mocking me or not, but I'm glad to see him march off because I'm feeling some unexpected pangs of guilt.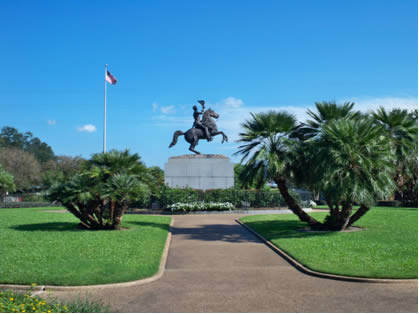 My visit to New Orleans won't include work related to Hurricane Katrina, or any other pressing social cause. My requests to teach at a local charter school for a day have been rebuffed. My calls to the Ninth Ward rebuilding project sponsored by the actor Brad Pitt remain unreturned. That may be just as well given that my broken wrist won't exactly enhance my already meager carpentering skills. Plus I still direly need to make some bucks on behalf of my own personal favorite philanthropy, the World of Hurt War on Poverty.
Muse correctly surmises that I'm also felling some real sharp pangs jealousy on account of the Navy man she picked up on the plane.
"Stop it now," she whispers. "He's married."
"So are you," I remind.
###
Shortly after we check into Le Richelieu, a cozy boutique hotel in the French Quarter, things go from touchy to feely to kissy by the Mississippi. I present Muse with the white tank top from the Panama City Hooters and the black top hat from Birmingham. She slips a Coltrane CD into my computer, and dons my gifts along with a black torpedo bra, black silk stockings, garters, stilettos from Kiki de Mont Parnasse, and black panties from Agent Provocateur with a strategically placed opening.
New Orleans boasts strip clubs with names like Rick's Cabaret, Larry Flynt's Barely Legal, Hustler, and Deja Vu Showgirls, but none of them offer the kind of VIP treatment available in our hotel room Cabaret Muse. I get naked, lie down on the bed, and watch my baby peel off the Hooters tank top, clenching the black top hat between her teeth and then twirling it in one hand as she tosses the tank on the floor.
She puts the top hat back on her head at a rakish angle. I reach out to touch her perfectly turned ankle. She steps back. She inserts an index finger between her lips, kissing it, licking it, sucking it.
"So what thinks Hermann?" she asks, using her pet name for what she also refers to as my "sex slave."
In anthropological terms, Hermann is Homo Erectus, cement hard and throbbing like he's attached to the microscopic little bastards with jackhammers who've been torturing my skull and wrist all day. The only answer I can manage is a moan.
"Was?" she says, holding the top hat next to her right ear. "I don't hear Hermann."
"Hermann is happy," I reply. "And hungry."
"Gut."
She puts the top hat back on her head, and lifts her left breast out of the torpedo bra, tweaking the nipple.
"Oh, ja," I say, moaning again.
She flings off the top hat, arches her eyebrows, and sucks in her cheeks in the model pose.
"Hermann is about to explode!"
"Mein Gott!" my baby cries out.
She sits down on me with the strategically placed opening in her panties strategically positioned. I grab her butt and the back of her neck. The box springs sing. Our legs harden. She shoves one hand onto my chest, bracing herself, and covers her mouth with the other hand. Our bodies quake, once, twice. Stifled screams accompany each temblor. She collapses on my chest.
We lie intertwined, basking in the violet afternoon light pouring through the window. My baby whispers that the French who settled New Orleans have a special name for this.
"They call it l'heur bleu," she says. "The blue hour."
###
Sixty minutes later, Muse undergoes a startling transformation. She packs away the bustier, and the spike heels, and flattens the top hat. Then she slips on a cotton shirt, white jeans and sandals. The sophisticated European l'heur bleu chick is now morphing into a shamelessly bourgeois sightseer. She says she wants to go on an architectural tour, a museum tour, a voodoo tour, a cemetery tour, a Civil War history tour, a bayou tour, and most urgently, a brothel tour.
First and foremost, however, she must go looking for vintage blouses and dresses. Her shopping spree proves to be surprisingly short if not entirely sweet because of me. She finds a fancy perfume store called Herve. The fragrance saturated air inside is so stifling I have to wait outside on the steps while she sprays samples on her wrists. She ends up rejecting all of them.
On Chartres Street, she finds a store called Trashy Diva, where she buys a lavender and green 1930s era Ashley dress with darts at the top of the shoulders and a lightly gathered underbust line. I have to concede the dress is a bargain at $110, and she looks fabulous in it. But I'm getting grumpy because my wrist hurts, my throat's dry, and my stomach's howling Delta blues.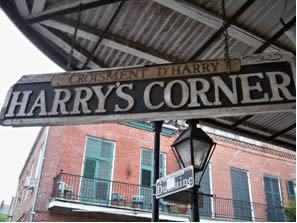 I pop a Vicodin and take Muse to Galatoire's, arguably the best restaurant in all New Orleans. Even though the traffic out on Bourbon Street appears to be about one-third of what it was pre-Katrina, Galatoire's 200 seat main dining room is packed on this Thursday night. I know that jackets are required for men during dinner, so I'm wearing a double breasted blue blazer and Muse is wearing her Trashy Diva number. The maitre'd leads us right to a two-top next to one of the mirrored walls.
Just as I'm thinking les bon temps are fixing to roulez, Muse slams on the brakes. Instead of sitting down in the chair the maitre'd is holding for her, she swivels her head around and around, frowning.
"It is too cold, I cannot sit here," she says. "The air conditioning is blowing straight down."
"Oh, Jesus," I mutter, rolling my eyes.
Even the maitre'd looks taken aback. "Ma'am, the only other place I have available at the moment is in the far corner beside the door to the kitchen," he says.
"Much better," Muse says. "Can we sit next to each other so I don't freeze?"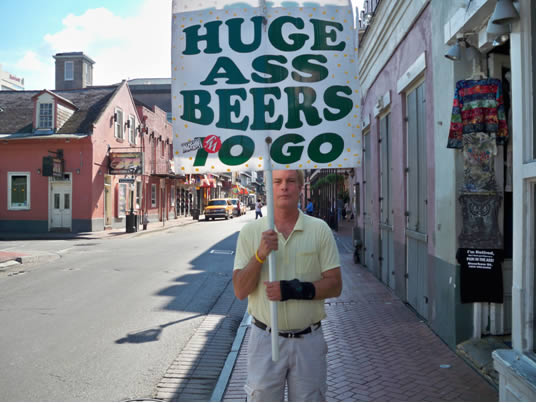 The maitre'd repositions the far corner table like a baseball diamond, putting Muse on second base and me on first. As per Galatoire's custom, he asks if we want to request a particular waiter. I confide that it's been twenty years since my last visit, and I'm open to his suggestion.
"In that case, Faust will be taking care of you, sir," he says, bowing off.
I chortle, rolling my eyes. "Wouldn't you know?"
"What is funny?" Muse asks. "Faust is a German name."
"Really?" I return. "Maybe we make a bargain with the devil?"
"That's so American," Muse sniffs.
Faust turns out to be a Louisiana bayou born whale of a fellow, over six feet tall and at least 350 pounds. I'm relieved to discover that he also the patience of Job because Muse immediately puts him to the test.
Mysteriously and quite uncharacteristically, she can't seem to decide what she wants to drink. First she orders a glass of Champagne. As Faust looks over at me, she says no, wait, that's too expensive. What's in a Sazarac cocktail? Faust says rye whiskey, absinthe, bitters, simple syrup. Too strong, Muse says. Maybe a glass of white wine. Faust suggests a Chardonnay. No, that's too ordinary. At long last she settles on a Champagne cocktail, which is bubbly with a sugar cube and a dash of bitters.
"Make that two, please," I say, gritting my teeth behind a forced smile.
Muse goes through the same drill when it comes time to order appetizers and entrees. Faust recommends the shrimp remoulade and the trout meuniere amandine. I go for both, but Muse says she wants something lighter. Oysters en brochette? Shrimp au vin? Chicken bonne-femme? Roasted duck? Sauteed crabmeat?
"Maybe I just have a shrimp cocktail and a salad," Muse says.
"Very good, ma'am," Faust says. "What sauce would you like on the shrimp?"
"No, wait, I have the oysters -- raw."
"A dozen raw oysters?"
"No, no, I have them en brochette. With a salad. Oil and vinegar."
I shake my head from side to side as Faust departs.
"Do I do something wrong?" Muse asks.
"I can't believe this crap," I say. "You are one of the strongest willed people I've ever known. You always know exactly where you want to go, exactly what you want to do. Now all of a sudden, you can't even decide what the hell you want to eat and drink. It's incredible."
"I try to order the less expensive dishes to be frugal."
"This is Galatoire's, not Kentucky Fried Chicken."
"I am a woman."
"And I am a man."
"I am allowed to change my mind if I want."
"Come on. Give me a break."
"Why you are so mean?"
###
The prickly prandial repartee we get into at Galatoire's continues on and off for the next 96 hours, escalating, subsiding, and then escalating again. There are only two  respites worth mentioning. One of them is a breathless couple of whirls at a Cajun style dance event at Tipitina's, the juke joint on Tchoupitoulas Street where the Neville Brothers and a bunch of other fabulous acts used to blow off the roof. Tipitina's somehow reminds Muse of her favorite nightclub in Munich, which I know nothing about, and our better days, of which I have increasingly blurred memories.
"We have our debut dance at a Labor Day party before First Mercy," she says. "That's when you get my attention finally."
"Maybe I ask you to go steady," I reply, blushing like we're on a prom date.
The second respite might be described as religious in nature if the Catholic Church would recognize the profane as being on a par with the scared. It occurs in between Muse's interminable walking tours when she asks me to meet her in front of St. Louis Cathedral. The bait is her professed desire to go to lunch at a bar around the corner. The switch is her secret plan for us to first light votive candles and commemorate a prelude to what she calls "our sloppy affair."
"You remember when we meet in New York for the first time?" she asks, leading me by hand into the foyer of the Cathedral.
"Of course," I reply as we hunker down on a kneeler in front of the votive candles. "We had lunch and then we went into another Cathedral."
"It was St. Patrick's."
"And I do the same thing here as I do there."
"Nein! Bitte nicht!" she whispers, blushing.
I grab her butt, muttering, "Bless me Father, for I have sinned. It's been at least 40 years since my last Confession."
The rest of our time in the Big Uneasy, it's as if we're stuck on a three-pronged salad fork. Our defining activities are eat, fuck, fight -- not necessarily in that order.
The eat prong is pretty sterling. On Friday, we have mufuletta sandwiches at the Napoleon House and gumbo at the Gumbo Shop on St. Peters Street. On Saturday, we learn to shuck raw oysters at the Acme next to Galatoire's. On Sunday, it's truffle omelet brunch at Couchon Bucher, cocktails and artichokes poached in absinthe at Commander's Palace, lamb chops at Upperline.
The only glitch is that Muse insists on being reseated at least twice in every restaurant or bar we enter. It's too noisy. It's too hot. It's too cold. It's too dark, It's too bright. Whatever it is, it's never right. I'm even more baffled than annoyed by the explanation Muse offers.
"I eat with my eyes," she says.
The fuck prong of the fork is pure gold. In lieu of rich desserts we treat ourselves to Champagne-soaked sex orgies at Cabaret Amusee every night. Unlike the Vicodin, my Cialis hasn't lost its punch; half a tab is all it takes, if that. I say nothing about Cialis to Muse. She abhors the very idea of erectile dysfunction fairy dust. She thinks it's an insult to her sexuality, that my need to take it means I don't find her attractive enough.
Wrong. I regard Cialis as a matter of want far more than need. I want to perform at an enhanced level, for my sake and also for hers. Turning Muse on turns me on, and it appears that the reverse is true as well. Cialis is made by Eli Lilly and Company, but its purpose as far as I'm concerned is the old Dupont motto, "Better living through chemistry."
Cialis advertisements advise you to call a doctor if you experience an erection lasting more than four hours. Buddy of mine says he wishes he had an erection that long. Hell with calling a doctor, he'd call every chick he ever had or wanted to have, and send out press releases to every media outlet in the world. Fact is, a four hour erection is no joke. It's a symptom of priapism which can not only hurt like hell but eventually lead to impotence, the exact opposite of wish fulfillment.
With Muse priapism is a non-issue: she makes my erections last just long enough. We do it on the bed. We do it atop the dresser. We soap it up in the shower. We fool around in the courtyard pool. We cavort out on the second floor porch with the wrought iron railing.
"I like it that you show me what the French Quarter looks like in the horizontal position," Muse says.
"I like it that you take proper care of my vertical positions," I allow.
Unfortunately, the fight prong of the fork is even harder, steely and sharply pointed. I accept a lot of the blame. My wrist hurts like hell no matter how much booze I guzzle. I'm also bummed about Chappy Hardy, my bon vivant buddy who died of a heart attack back in June at age 63. As his obit said, "Chappy was everybody's friend in New Orleans," and he'd been my friend for almost 40 years. Now it seems like I don't know a soul in town.
While Muse runs off on her various Tours de Orleans, I mostly hang around the hotel napping and drinking. When she returns, I'm usually groggy or wasted or both. The few times I attempt to rendezvous with her quickly devolve into disastrous screaming matches. She gives me wrong directions. I get lost and pissed. When I finally  track her down, she complains I walk too fast, so I walk slower. Then she walks slower still. I slow down some more. She stops. I get pissed again.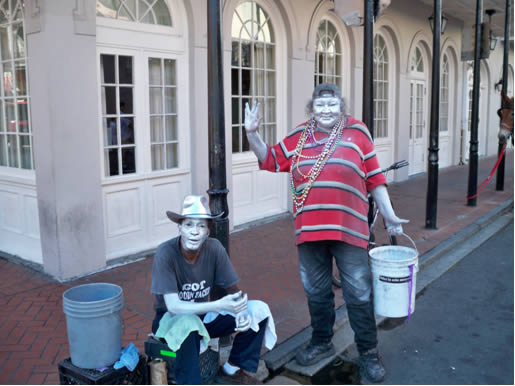 "This is just ridiculous!" I holler. "You're like one of those goddamn mules I drove back in South Carolina."
"And you are an impotent jackass!" she hollers back.
"Impotent?"
"I mean impatient."
###
On Monday, my wrist feels slightly better and my mood brightens a lot. We eat a late lunch at Antoine's. The place is virtually empty, but I don't even put up a fuss while Muse inspects six adjacent dining rooms before deciding to be seated in the main room near the front door. I don't care much for what Antoine's claims to be the "original" oysters Rockefeller; it's made with asparagus instead of spinach and there's no Hollandaise sauce. But the spicy shrimp remoulade is vastly superior to anyone else's.
"You are so happy because tomorrow I fly back," Muse says over espresso.
"Aw, now, that's not right," I insist. "I'm just loving this food. Don't you?"
"The decor of this room is nice," she says, shrugging.
"Glad your majesty approves."
"I think I figure out what is the problem with your man-o-pause.."
"Yeah? What's that?"
"You can't stand to be with a woman for more than twenty-four hours in a row."
Photograph Captions and Credits: 1. Jackson Square (HH3) 2. Store sign in French Quarter 3. HH3 as beer seller (Muse) 4. Street performers in French Quarter (HH3)