I don't find out about Plan B until I put Muse in a cab to the airport on Tuesday morning. I'm leaning into the back seat to give her one last kiss on the lips. She says she's glad we spent the previous day on eat and fuck instead of fight. Then she lets it slip that she'd looked into booking a single room at another hotel in the French Quarter.
"I am glad I don't do Plan B. I don't like sleeping alone," she says, pausing for a sec and then adding, "I wish I was going with you to Texas."
I suck a deep breath. The past several days have been more l'heur bleu than bad. But I'm getting anxious to hit the road again, and I'm glad Muse is taking the jinxing black top hat back to New York in her carry-on bag.
"We go there together another time," I say. "The Smart Car's just too cramped for two people. And besides..."
Muse tugs on my arm as my voice trails off.
"Was is besides?"
"There's just too many dead bodies."
"For me, too," Muse says.
Before I can decipher that cryptic remark, she pulls me close, and I kiss her hard on the mouth. Once, and then again, and then a third time for the charm. I slip the cabbie a twenty, and close the back door.
"You call me in Texas that I know you are safe," Muse says as they drive off.
"Ja," I say, waving. "That means yes."
###
The Cajun country of Louisiana spans most of the soggy green and brown swampland west of New Orleans. The capital of the state is Baton Rouge, but the Cajun capital is the town of Lafayette, crouched just above the floodplain on the rim of the Atchafalaya Basin. Cajuns, who are descended from impoverished 18th Century French immigrants, sometimes refer to themselves as "coon asses." As my Smart Car putters past the Lafayette exits on Interstate !0 West, I'm reminded of an old folk saying:
"What separates the coon ass from the jackass is the Sabine River."
I cross the Sabine River at 1:27 p.m. on Tuesday afternoon, and enter my native Texas. Like most road trippers, the first thing I'm struck by is the size of the Lone Star State as denoted by the mileage signs. It's 847 miles from the eastern border town of Orange to the western border town of El Paso, a sixteen hour drive if you make good time and the rest your life if you don't.
The second thing that hits me is the gagging stench, which consists of dead dinosaur molecules, burning rubber, and benzene. The so-called "Golden Triangle" comprising Orange, Beaumont, and Port Arthur boasts three of the forty largest oil refineries in the world. The incidence of lung cancer is so high you're better off smoking cigarettes than inhaling the ambient air. But hey, honey, that there's the smell of money.
Born and bred a third, I tend to think in threes, so I fixate on a third thing: the fact that Houston is only 110 miles away. Back in the day, when men and muscle cars had four-barreled carbs, gas cost 25 cents a gallon, and a seat belt was the whiskey you drank when you sat behind the wheel, a jackass like me could cover that distance in about an hour. Now it takes me almost twice as long, and when I see the city limits, I wonder why I'm in such a shit-fire fool hurry.
###
Houston is the first word man said on the moon, and the last place you want to visit if you moved away a long time ago. It's hot. It's humid. It's infested with cockroaches, mosquitos, and worker bees transplanted from out of state. When it rains, the streets flood. The traffic jams are nearly as bad as in L.A., and the only stars you're likely to see are the ones you'll get from heat stroke if the air conditioning breaks down.
And yet I love the blessed, cursed place to goddamn death. Or think I do until I exit off I-10 toward Buffalo Bayou.
 I recognize the quadrilateral roofed Pennzoil Towers, the sawtoothed Republic Bank Towers, and the egg crate Shell Building. But it looks like most everything else been moved around and changed into another city. There are trolley cars in the middle of downtown. There's a huge aquarium and upscale inner city neighborhoods that never existed before. Jefferson Davis Hospital, where my late father tried to have my late mother committed for alcoholism treatment, has been razed to the ground.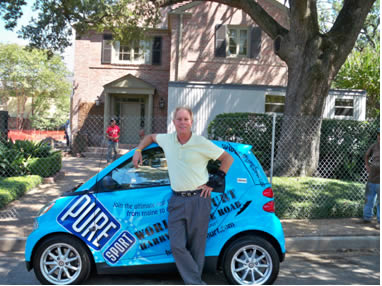 I cut through River Oaks, the local Beverly without the Hills, and stop by the house where I grew up. It's a late 1930s vintage red brick two story. But something's missing: namely, the entire north side of the house. The kitchen and my old second floor bedroom are demolished, gone. Ten Hispanic laborers are swarming around with nail guns, framing in a major new addition for the present owner whose name I don't know.
I get a corkscrew to the heart when I see the old oak tree in the side yard. Leafy, thick trunked, and tangle branched, it's over 30 feet tall and at least 75 years old. Along with hosting my tree fort, the old oak was the launch pad of my dreams. If I leaped from the highest limb and pedaled my legs really, really fast, I could bicycle through the air as high and far as my crazy little heart desired.
It doesn't take long to come back down to earth. Turning away from the old oak, I hand the head honcho Hispanic laborer my Kodak still camera, and ask him to snap a photo of my Smart Car and me in front of the house. His compadres hide behind a pickup truck, chattering in Spanish. I sabe enough to realize that none of them want to be in the picture for fear I'll turn it in to "la migra," the immigration authorities.
"Yo no la migra. Esta mi casa when I was a nino," I say in Spanglish.
"Ees okay," says the head honcho as he snaps the photo.
###
I spend the balance of the afternoon self-medicating at Tila's, a nearby gourmet Mexican restaurant. Along with specialties like brie cheese and pear quesadillas, Tila's offers more than 60 brands of premium tequila, which as any connoisseur can attest, is not merely a type of alcohol but a semi-hallucinogenic drug.
Normally, I might sample two or three different tequilas. But there's nothing normal about being back in Houston for the first time in four years, so I sample my favorite brand, Jose Cuervo Reserva de la Familia, about seven times.
My family's Houston roots trace back over a century, and it often seems like we've been condemned to one hundred years of solitude. Both my parents and one of my sisters are dead. I'm estranged from the other sister, who's married to the dead sister's former husband. I'm also estranged from my younger brother, Biff, a local investment manager.
On my last visit to Houston, I attended Biff's 50th birthday dinner. While we were waiting for the cake, some of his boarding school buddies started to rib him about his self-exaggerated reputation as a weekend warrior hockey player. In a misguided effort to deflect attention from that subject, I told a Cajun joke alluding to oral sex between consenting marital partners that went over like a platter of lead crawfish.
"Two of the guests at my party were Cajun, and the wife has breast cancer," my brother informed me afterward, adding that henceforth I was no longer welcome to stay at his house.
My sixth Jose Cuervo at Tila's reminds me that the rift between my brother and me runs much deeper than an off-color joke. It drills down to the pain that's the source of my anger, most of it anyway.
Our father, who art in WASP heaven if there is one, used to say he wanted me to be "a nice average guy." By that he meant a short-haired, Republican-minded, traditionally employed, 12 to 18 handicap member of the country club. I, his namesake son, always rebelled, something for which both my sisters, before our estrangement, repeatedly thanked me.
My brother is exactly what daddy wanted me to be, the "nice average guy." He's also the "little dream boat" our mother repeatedly called him front of my sisters and me. If this was the Bible, I'd be Cain, and he'd be Abel, or maybe it'd be the other way around. Bottom line: I really don't give a good goddamn anymore.
I've got a bunch of friends I've known for thirty, forty, fifty years, my whole life, who'll put me up. They include lawyers, oilmen, realtors, politicians, trust funders, restaurateurs, ne'er-do-well artists, and a guy I grew up with who would put me up except for the fact that he's is doing time in state prison on charges related to forging the will of another guy I grew up with while addled on pain killers.
Short of perpetrating a similar fraud or robbing a 7-11, there aren't any ready money-making opportunities for me in Houston. But there is a labor of love in honor of a dearly departed friend none of my River Oakie friends knew. His name was George Thomas "Mickey" Leland, III. Mickey was a five term U.S. Congressman who represented the city's poorest black and Hispanic neighborhoods. And I still hear his irreverent voice as I guzzle my seventh tequila at Tila's.
###
"Hello, Harry. This is your nigger congressman Mickey Leland. You want to go to Cuba?"
It's a Monday morning in mid-March 1983. I'm at my writing desk in a rental house in Houston, trying to think up story ideas for Texas Monthly magazine. Because it's Mickey calling on the phone, I immediately commit. Four days later, we're on a private jet to Havana with a TV crew and three of his congressional staffers.
The official purpose of our Cuba trip is to negotiate the release of two American prisoners, a young white couple who hail from a Republican congressional district in north Houston. The Cubans suspect they're marijuana smugglers, but there's no hard evidence against them. Their plane crashed on the island, and the husband had the presence of mind to torch it before they were captured.
Mickey Leland may be their only hope. The U.S. has a longstanding trade embargo against Cuba, and no extradition treaty. In recent years past, Mickey's visited Cuba three times and negotiated the release of five Cuban-American prisoners who took part in the Central Intelligence Agency's ill-fated Bay of Pigs invasion in 1961. He is one of the very few U.S. officials who knows  Fidel Castro personally.
Which speaks to the second purpose of our visit: Mickey's ongoing effort to maintain unofficial diplomatic relations with the Cuban dictator. Those efforts have sparked severe criticism from both left wingers and right wingers. Mickey has said many times, "I disagree with Castro ideologically, but I respect him intellectually."  While I can attest that's true, I know he's motivated by much larger concerns.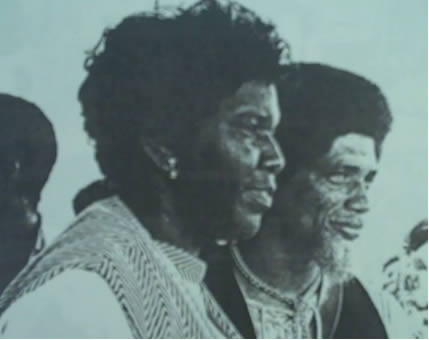 "I am as much a citizen of the world as I am of this country," Mickey declared after his first hunger relief mission to Africa. "To hell with those people who are critical of what I am able to do to help save people's lives. I don't mean to sound hokey, but I grew up on the Christian ethic, which says we are supposed to help the least of our brothers."
We land in Cuba about 3 p.m. At 8 p.m., we have an audience with Castro in his office at the presidential palace. The next morning, we fly to the Isle of Youth. We tour the Modelo prison where Castro was held prior to the overthrow of the mafia-supported dictator Fulgencio Batista, and visit schools where exchange students from African nations are taught communist ideology. On Sunday, we fly out to Santiago, the former slave port on the island's eastern tip which still has a predominantly black population.
On Monday, we get the white couple out of prison, and fly back them back to Houston. I've seen enough in a single weekend to write half a dozen stories about Cuba. Texas Monthly refuses to run even one story. The (white) editor in chief says he doesn't see what Cuba has to do with Texas, His trusted (white) political editor declares that the trip was just a Mickey Leland publicity stunt.
 This is the kind of poppycock Mickey's been getting throughout his life. Born in Lubbock, Texas, on November 27, 1944, he was raised in Houston by a divorced mother who worked as a short order cook to earn her teaching certificate. He graduated with a pharmacy degree from Texas Southern University, where he led civil rights demonstrations and protests against the brutally racist Houston police. In 1972, he won election to the Texas legislature as a Democrat.
I met Mickey a few months later at a party hosted by an Argentina-born architect. Light skinned and square-shouldered, he had the most dazzling green eyes I'd ever seen on any man or any woman, for that matter. He was wearing an Afro, a dashiki, and platform shoes. At my prompting, he recited "Mickey's Message to the World," a poetic precursor to what later became known as rap.
"Kinky-haired 'boys' build arsenals of straw to hide slingshots and bottles of lawnmower fluid to prepare for guerilla wars against blue-eyed tanks and blond-haired missiles and blanche-skinned militaries," he declaimed. "And Caucasians? And Law? And Order? And justice? Genocide? Suicide? Or Life? Shadows are gaining substance much too slow! The Sleeping Woman she'll never know!"
At the time, Mickey was going out with a white woman, and so was I. Like brothers from another mother, we double dated all over town. There wasn't a part of Houston where we couldn't (and didn't) go. Together, we experienced racism, reverse racism, double reverse racism, and good times beyond race, place, and social disgrace.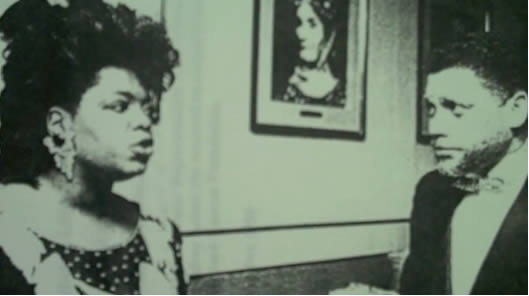 In 1978, Mickey was elected to Congress. He started wearing Armani suits and reaching across the aisle to find common ground with Republicans.  In 1983, at age 36, he married Alison Walton, age 24, a Georgetown Law School student. Three years later, Alison gave birth to their first son.
In the summer of 1989, during a congressional recess, Mickey flew to Ethiopia on a relief mission in his capacity as chairman of the House Select Subcommittee on Hunger. Alison was pregnant with male twins destined to be born premature. On August 7, Mickey's plane crashed during a rainstorm in the mountains. He and all 14 others onboard were killed.
Mickey's funeral was at St. Anne's in Houston, the same Catholic church where I was baptized. The mourners included over 100 members of Congress, the Reverend Jesse Jackson, and Bianca Jagger. I cried over the loss of my friend on and off for three full weeks, and on random other days ever since.
###
I have to strive to stay dry eyed on my fourth day in Houston as I drive to the Mickey Leland Center for World Peace on the campus of Texas Southern. His archives are housed in a handsome glass and brick building, but due to funding cuts and university administration scandals, relatively little progress has been made in collecting and cataloguing them. With the approval of Mickey's widow Alison, I'm going to make a Flip video about opening a very special item -- a legal size manilla envelope containing the personal effects recovered after Mickey's plane crashed in Ethiopia.
 The archive director Jew Don Boney, a professor and former Houston city councilman, escorts me into a back room equipped with sliding file cabinets. He shows me a folder that contains photographs of Mickey with the likes of Nelson Mandela, Bishop Desmond Tutu, Oprah Winfrey, Ronald Reagan, and Ted Kennedy.
"The kind of leadership Mickey Leland embodied is sorely missing from the black community today," he says.
"No shit," I blurt. "Same goes for the white community."
A few moments later, Jew Don opens the manilla envelope. I turn on my Flip camera, and orally identify the artifacts as he removes them. The largest, most intact item is a leather bound congressional briefing book. It contains newspaper clippings and C.I.A. summaries about Ethiopia's intractable hunger crises and related tribal wars between Tutsis and Hutus, testimony in black and white that man's inhumanity to man is color-blind and universal.
"Nothing's changed," Jew Don observes. "You could have those same headlines in the media today."
The next item out of the envelope is silver ball point pen smeared with brown dust. Then comes a black leather change purse, zippered with the barely legible logo of a casino in the Bahamas. Then there's a disordered pile of passport papers, all of them charred by fire and curled at the edges.
And that's it.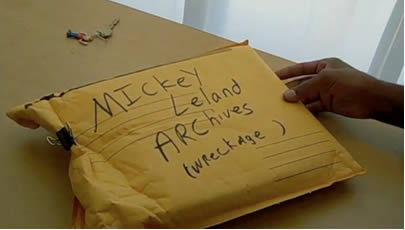 My dearly departed friend, George Thomas "Mickey" Leland III, has been reduced to a pen, a change purse, a passport, and a briefing book. My throat chokes, my eyes burn. I shut off the Flip, and tell Jew Don I need to take a break.
"It's okay," he says, echoing the words of the head honcho Hispanic laborer back at the construction site that once was my home, and then adding, "This is what happens when you do God's work."
Photograph Captions and Credits: 1. HH3 and Smart Car in front of former boyhood home in Houston  (HH3) 2. Mickey Leland and US Congresswoman Barbara Jordan (Leland archives) 3. Mickey Leland and Oprah Winfrey (Leland archives) 4. envelope containing Mickey Leland personal effects (hH3)