Next night I'm hunkered over the bar at Graham's Grille with my amigo Jose Cuervo solving all the world's romantic problems save my own. This emaciated old bald fellow in a fancy shirt gets up from a corner table, and hobbles out the door. I mutter something to the bartender about how the fellow looks like the ghost of Dennis Hopper, my Easy Rider actor-director-anti-hero, who owns a ranch in Taos and is reportedly suffering from pancreatic cancer.
"That ain't no ghost," says the bartender. "That is Dennis Hopper."
Jose and I take that as a sign it's time to hit the road again.
Next morning, I don my new cowboy duds, and giddy-up toward the southwest. After a quick stop to buy cigars in Santa Fe, I merge back onto Interstate 40 in Albuquerque, and blow past Grants like a force five sandstorm. Taos-to-Gallup's a 270 mile drive that's supposed to take over four hours. I figure, screw it, let's go on and gun another 185 miles to Flagstaff, Arizona.
I'm cruising on glassy asphalt at 80 miles per hour, occasionally creeping to 85. As we approach the Painted Desert, I set a new Smart Car land speed record of 92 m.p.h. I bet Jose we'll be hunkering over a juicy New York cut sirloin before sundown. Then I spot a sign for the Petrified Forest National Monument that pulls me over like its magnetized.
First thing I wonder is, hell's it all gone? I'm expecting to see a woodland out of "The Lion, the Witch and the Wardrobe" sticking up from a patch of sand splashed with Disney cartoon technicolor. Instead, there's only badlands, 340 square miles of nothing upon nothing with reddish brown stripes. Talk about an existential metaphor for male-female fandangos.
I whip out my Flip camera, pay ten bucks at the park ranger booth, and wind down a main road through 225 million year old siltstones, mudstones, and sandstones dotted with wiry clumps of sagebrush and rock-like lumps of petrified wood. I come upon a rusty red swath that looks like it's been strip-mined, then folded and refolded into rows of gigantic geological frowns.
"See all those furrows?" I say into my Flip camera. "That's how my heart feels now that Muse says she wants to break up."
There's a turnout beside the road adjacent to a stretch of tan tinted nothing.
"They call this Tawa Point, but for me it's Wawa Point," I say. "That's how I feel when I think about breaking up with Muse -- wawa!"
I spy an adobe block motel called the Painted Desert Inn.
"I'd like to spend the night here with Muse," I say. "But I guess I can forget about that. She says she doesn't even want to be in the same room with me anymore."
I drive a few more clicks to Chinde Point, another row of gigantic frowns where dinosaurs, phytosaurs, and metoposaurs once roamed.
"When it comes to our relationship, Muse says, 'What's the point?'" I note, adding, "I feel like a dinosaur myself now."
I stop again at Pentato Point, the highest spot in the Painted Desert at 6,235 feet above sea level. Seven miles to the north across a light tan flat, I can see a mesa called Pilot Rock. Staring into the rapidly setting sun, I can see almost 120 miles to the outskirts of Flagstaff.
"For me, this is a low point," I say, "because Muse isn't here with me to share it."
I position my tripod to film a closing sequence. The first shot shows me from the chest down walking toward he camera.
"If Muse saw me now, she'd probably say I remind her of her estranged husband because of my cowboy shirt and my cowboy boots," I note. "But guess what? I'm not her estranged husband, and I'm about to fly!"
The second shot is a close up of a stone bench where I've left my cowboy hat with a pair of Adidas shades wrapped around the crown like plastic thorns.
"This is all that's left of me now that Muse says she wants to break up," I declare. "I'm just a piece of petrified wood."
Climbing back into the Smart Car, I feed the video footage I've just shot into my computer, and replay the segments. All by themselves, the words I'm saying sound a little hollow, a little insincere. But nothing could be further from the truth. I scroll through iTunes and find the perfect music track to add to the video. It's Mel Carter's 1965 smash hit "Hold Me, Thrill Me, Kiss Me." When I listen to the song, I collapse over the steering wheel with my eyes watering.
"Hold me, hold me... Never let me go until you've told me, told me... What I want to know and then just hold me..."
                         #                                  #                                  #
I roll into Flagstaff just after nightfall with a not so sublime sense of enveloping other worldliness. At 6,910 feet above sea level, the city marks the western edge of the largest contiguous Ponderosa Pine forest in the continental United States. Unlike the petrified forest back in the desert, this woodland has living boughs with thick brown trunks and green needles. The air is clear, dry, and cool with hundreds of stars.
If the transcontinental railroad put Flag on the map, heavenly bodies are what gave it a flair. In 1896, the Boston-born astronomer Percival Lowell built an observatory to study Mars. Lowell believed that Mars was populated by alien creatures and crisscrossed by canals. The humped rise on which the observatory sits became known as Mars Hill.     By that time, 80 to 100 trains were chugging through every day.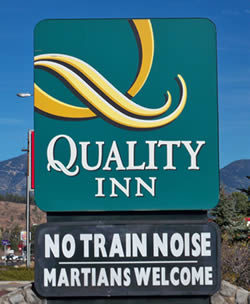 "NO TRAIN NOISE/MARTIANS WELCOME," says a sign in front of the local Quality Inn.
Flag is located on Route 66 less than an hour's drive from the Grand Canyon. I'm deliberately avoiding both the 2,448 mile highway from Chicago to L.A. and the 18 mile wide hole in the ground. Route 66 has been chopped up, rerouted, and commercialized into an "historic" commercial strip. I traveled parts of it on my hippie trip in 1971, and I have no desire to be there, do that again.
Ditto the Grand Canyon. College roomie and I hiked two hours down to the river bottom, with me packing a double burner Coleman stove so we could cook out. We met some guys with pot and a cool chick on spring break. Hiking back up with the stove took five hours and all the breath I had, and the cool chick blew me off at the top.
Upon checking into a local motel, I realize that I got out of New Mexico in the nick of time. My "Taos Pueblo Women on the Warpath" video is on its way to attracting over 900 hits on YouTube. The majority of the comments being posted, however, are rather less than laudatory of the women in the video and me.
Bluelakeflower writes in lower case: "as women we play a big part in our religion and thats (sic) what matters. its (sic) not about money or petty little things. when we wear our shawls its (sic) a sign of respect to ourselves and to our ancestors... this video was distasteful and is one sided. you have disgraced your people and yourselves."
Mountainreader says: "The comments from these women make me sad for all the other Taos Pueblo women... If these women dont (sic) like it they can move to New York!"
Oldaxewoman declares: "Our government has flaws just like the american (sic) government. It is not perfect. Their comparison to Afghanistan is exaggerated.... Life at Taos Pueblo is NOT all about measly money. It is about your commitment to our culture."
Subsequent comments take an ominous racial tone. MsChatterbox says: "Shame on you women in the video, youve (sic) fallen prey to this white man!" Kikenativesuga says: "what was the purpose of the taos pueblo women video? it has no point. your (sic) just upset because your worthless race the white race has never had any culture of your own. nothing but murderers is what your race is!! good luck getting into 'heaven.'"
ReZsTyLE03 issues a direct threat to me: "the white guy who made this video better watch your back boy come around here ill (sic) show you who really runs this!!"
                         #                                  #                                  #
If the slings and arrows on the Internet aren't quite as deadly as flint tipped tomahawks, they're enough to make me take a few precautions. I beat it down to Phoenix, where I can have a suburban Smart Car dealer change the oil and do an overall safety check. I've still got to drive almost 400 miles to reach L.A. Last thing I need is to break down in the middle of an Indian reservation when there's a war party of Taos Pueblo women who'd evidently like to have my scalp.
Interstate 17 threatens to become my trail of tears. The 145 mile drive is almost straight downhill with an elevation change from 6,920 feet at Flag to 1,117 feet at PHX, and a concomitant rise in temperature from 39 degrees to 85 degrees. I navigate dizzying switchbacks past exits marked Horse Thief Basin, Bloody Basin Road, and Black Canyon City. The convoys of eighteen wheelers know to test their brakes repeatedly. My nemeses are SUV drivers who don't slow down or stay in their lanes because they're too busy talking on their cell phones.
I'm so shook up by the time I see Camelback Mountain, I forget that I've got a real good golfing buddy and a real nice former girlfriend in the city. I do have the presence of mind, however, to buy two fifths of Jose Cuervo Reserva de la Familia at $125 a pop. I also buy a knife with an eight-inch steel blade. I figure it's safer than packing heat -- for everybody, including me.
Amid my urban errands and ever increasing anxiety, I get a text message from Muse. She's still in Europe. Her words are more than a little ironic under the circumstances.
"Just send u serious letter but amusing pics," Muse writes. "Our cold war aside ur women on warpath is ur best clip by far and a real story."
I pull over to the side of the road to text her back.
"Glad u like taos vid but wish u werent in cold war vs. me. Pls let me fix us. I miss u. I love u."
When I get back to my motel that night, I'm still waiting for a reply from Muse. There is none. I send her another text.
"Bitte, pls call, text, or email me. I cant stand 2 b on warpath any more. I call u my girl no matter what u say. Ich liebe dich. Bussi."
Next morning, there's still no message from Muse. I spend the day shooting videos of the rocks in the spiritual vortex and self-medicating with my amigo Jose Cuervo. At sundown, I return to my motel, and get what's coming to me. There's an email from Muse in my cue. It's the "serious letter" she mentioned in her last text without the "amusing pics" attached.
"I hate fighting as you do, but I am so demoralized and see no way of ever going back to what we had," she writes. "HOW and WHY should I trust you after what you did to me? I know you have a lot of problems, but they are not my responsibility. As per your rages, you probably need to see a professional, but I am no expert and can't help anyone. You have to do that for yourself.
"I was commissioned today to work on two portraits and a great design project," she continues. "The design project is a very big chance for me and will help me a lot. Plus it is entirely up my alley. I need to keep my vision, imagination, and head free and clear of all that is toxic and vulgar. I still have so much potential. I CANNOT have my spirit destroyed. I will be in Austria until further notice. Please understand that I am not -- repeat, I AM NOT -- your girl any longer."
I stare at Muse's email, rereading it over and over until I pass out on the motel bed, drunk, alone, and unwanted in the depths of what suddenly does seem aptly called man-o-pause.
                         #                                  #                                  #
I awake on an otherwise sunny and auspicious November morning with a nauseous mix of guilt, regret, and self-recrimination. The microscopic little bastards with jackhammers are pummeling me for screwing up my relationship with Muse. They're also punishing me for screwing up my life in general and screwing up the business interests of my road trip in particular.
The Coleman Company is one of my most supportive sponsors. They've given me a tent, a sleeping bag, a stove, cookware, and some cash. I shot a few photos of the Coleman gear stacked inside the letters of Robert Indiana's original "LOVE" outdoor sculpture in Rockland, Maine. So far, I've yet to camp out. I figure communing with nature might clear my head of the microscopic little bastards with jackhammers and my remorse over losing Muse. 
I check out of my motel and check into the Beaver Creek Campground off Highway 179 near the Montezuma Well National Monument. As its name implies, the campground is nestled beside a babbling creek shaded by oak, pine, and pinion. There are a dozen cul de sacs for cars and RVs adjacent to the gravel entrance road, a couple of picnic tables with grill pits, and an outhouse with toilets and running water.
Okay, call me the reincarnation of America's most famous backyard hippie, Henry David Thoreau. I realize camping "On Beaver" ain't exactly roughing it. Likewise, I realize I'm a city boy born and bred, a real greenhorn. In 1971, roomie and I used to sleep in the back of station wagon. I've never even pitched an outdoor tent all by myself.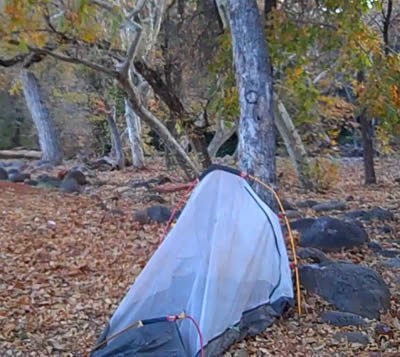 That doesn't change. I arrive at my assigned $12 a night cul de sac about 2:30 p.m., inhaling the mountain breeze and wishing I'd done this sooner. A few minutes later, I unpack my Coleman tent. It's a Kraz X1 one person model made of polyester and mesh assembled in China. Total weight: 3 pounds, 7 ounces. Floor area: 15.8 square feet. Retail price: $79.99.
According to the directions, step one is laying out the main sheet, flysheet, poles, and stakes. Step two is the ball buster. I'm supposed to plant the stakes at specified corners, but the ground is rock hard. I try to push a stake in by hand. It's a no-go.  Lacking a hammer, I bang at the stake with a shoe. Another no-go. It eventually occurs to me to pick up a nearby rock. My leap into the stone age works, sort of. The tip of the stake penetrates the rocky ground, but the shaft bends in half like a metaphor for my relationship with Muse.
Screw the stakes, I say. Let's skip to step four. I discover that the Coleman engineers have done a remarkable job of designing magnetic periscopic poles. The illustrations show that the poles are supposed to form a half-cone shaped infrastructure to support the main sheet. My half-cone ends up looking like a pile of amputated spider legs.
Damn the periscope, I say. Let's strang this dang thang like Ruby Jane would do. I hustle down a slope toward the creek, where I find one of nature's poles, a.k.a. an oak tree. The ground's a little damp and soft. I tie one end of the tent around the tree trunk, rock hammer my remaining stakes, and presto, I got me a tent!
Out of habit, I grab my iPhone to call Muse and share my accomplishment in the great outdoors. Turns out I'm so far outdoors there's no cell phone reception. I see some incoming spam texts in my queue, but I can't make outgoing calls and I can't send text messages.
It's now getting on 4:30 p.m., and I need to rehydrate. Soon as I sit down at a picnic table with Jose, this skinny, tattoo-armed guy in blue jeans and a faded red T-shirt wanders over from another cul de sac with beer can in hand. He says his name's Don, and he asks if that's my tent hanging from the oak tree.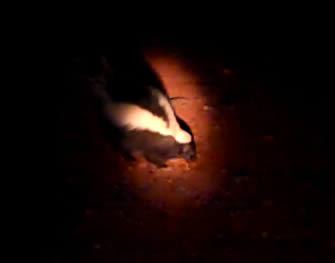 "Gotta whole family of skunks come out every night," he informs me. "They gonna claw right through that mesh on top. Stinkies got in my tent, ate all my bratwurst but left the onions."
"Was your tent closed?"
"Hell, yeah. I'm a hillbilly, but I'm not a dumb ass. Little suckers unzipped it."
Don allows that neither of us have a future as wilderness guides. I offer him a shot of Jose to commiserate. His wife Karen wanders over with a six-pack of beer, and sits down with us. I figure they're both in their late forties. Karen says they're from Wisconsin. Don's an unemployed machinist. They're got a four-person tent, perfectly pitched, and a 1996 Oldsmobile sedan with a chassis that's not so well set up. I ask how long they've been on the road.
"Eleven years," Don says. "My children are all growed up. I'm on unemployment, but it's hard to find a permanent address where they can mail the checks."
In other words, he and his wife are basically homeless. Karen pops another beer, and shows me a silver band with red and blue notches on the third finger of her left hand.
"We've been married ten years, and this is my first wedding ring," she says. "Don bought it for me at Oak Creek Traders in Sedona."           
Just then another guy in jeans climbs out of a red pickup parked near the Oldsmobile, and joins us at the picnic table. He's got a black ponytail, but no front teeth. Name's Mel. He's a Seminole from Oklahoma. He stares at my Smart Car, flipping his ponytail.
"I can't believe how small it is," Mel says. "You can't sleep in that. You won't fit."
"Got him a real spacious tent strung up from that tree over yonder," Don says.
Everybody gets a good laugh out of that. Likewise, everybody loves my little floating turtles. I pour a cup of Jose for Mel. Don builds a fire in the grill pit with wood and igniter fluid. Karen fetches a boom box from her tent. It's playing Gloria Gaynor's disco hit "I Love the Nightlife."
The music attracts a young Polish couple, Christina and Eddie. They've got a fancy a six person tent three cul de sacs away. They say they're cultural anthropologists on a trip to study Native American cultures. Their next stop is Taos Pueblo. I let that go. Mel kick starts the conversation by telling Christina he used to have a Polish girlfriend. Don offers beers all around.
The sun goes down, and out come two skunks. Don picks up a flashlight with one hand and throws a rock with the other.
"Git away, stinkies!" he hollers, hitting them with the flashlight beam but missing with the rock.
Everybody gets a good laugh out of that, too. Everybody except the skunks, who seem real serious about stealing supper. Over the next ninety minutes, they multiply to six, and keep on creeping up from the creek. Don keeps on missing with his rocks, but finally scores a direct hit with the igniter fluid can. Incredibly, the critters don't spray us with stink bombs.
The temperature drops below freezing. We campers are drunk as skunks and ready to turn in. Christina and Eddie take pity, and invite me into their six-person tent. I try to call Muse one more time. No reception, no luck. Spending the night on the hard ground zipped in a sleeping bag reminds me of the 1950s advertising slogan for Dr Pepper: I wake up at 10, 2, and 4 thirsting for refreshment.
Come sunrise, I pack the Smart Car quicker than a skunk can spoil a picnic. Mel, Don, and Karen are still asleep. I thank Christina and Eddie for their hospitality, and offer a few parting words of advice:
"If you do go to Taos, don't tell the Indians I slept in your teepee."
Photograph Captions and Credits: 1. Quality Inn sign Flagstaff, AZ (HH3) 2. Coleman tent (The Coleman Company website) 3. HH3 tent at Beaver Creek Campground near Sedona, AZ (HH3) 4. Skunk at night in Beaver Creek Campground (HH3)