Crystal crunchers from all over the world flock to Sedona like pilgrims to a New Age mecca. Huddled in the heart of the Red Rock Country, the town is surrounded by Bell Rock, Cathedral Rock, and Monument Rock, all of which are rust colored, shaped like their names, and stunningly beautiful. Even more importantly, Sedona is the site of four spiritual vortexes, at the Cathedral, the Bell, Boynton Canyon, and the municipal airport.
Upon arrival, I get a bogus glimmer of hope that exposure to the spiritual vortexes might give me the grace and insight to salvage my relationship with Muse. "These vortexes are swirling centers of energy coming out from the surface of the earth," declares a pamphlet published by the Sedona New Age Center. "If someone is at all a sensitive person, it is easy to feel the energy at these vortexes, and it can be an uplifting experience."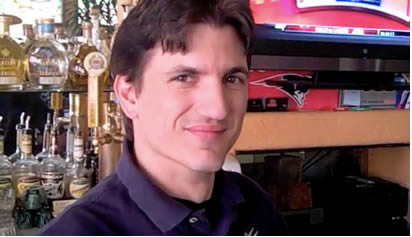 Evidently, I'm not at all a sensitive person. Apart from Muse's body next to mine, the only things I can or want to feel in Sedona after camping out in the desert are a hot shower, clean clothes, and an ice cold margarita made with Jose and rimmed with salt crystals I know to be imbued with magical healing powers.
The bartender at the Javelina Cantina where I stop for breakfast is equally insensitive. "Rumor is the spiritual vortexes were originally picked out by a fat lady," he says. "You'll notice that they're all within easy walking distance of a main road."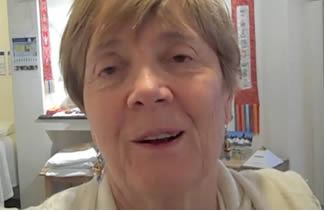 I slip outside to smoke a cigar, only to find spirituality shining through a plate glass window. Across the sidewalk is the Buddha Maitreya Shambhala Meditation Center. With its boutique cases and reclining lounge chairs, it looks like a cross between a jewelry store and a beauty shop. Inevitably, I go inside, where I meet a heavyset woman in taffeta robes who claims she's a Buddhist nun.
"We offer vibrational healing for $50 an hour," she says in a whisper.
"Can you give me a free sample?" I whisper back.
Smiling and nodding, the nun fetches a hand held contraption that looks like a foggy white quartz crystal penis protruding from a vagina constructed of thin gold bars. I tell her I broke my wrist several weeks ago. She waves the contraption over the palm of my left hand.
"Anytime you have a crystal with two magnets like this, it excites the photon light inside the crystal," the nun says. "That's the white light. Then you wrap the crystal with the magnet, and it's connecting you directly to the light within you. This is the medicine of the future. It heals your soul."
"Sometimes I feel like I've got a hole in my soul," I confide.
"We all do," she says, smiling and nodding again.
At this point, I do start to feel something -- I feel like I'm in a loony bin. There's just one place in America that could possibly be weirder than Sedona. It's the next stop on my itinerary. I hop into the Smart Car and head due west for California.
###
Somewhere in the vast and vacant desert west of Phoenix, my mind wanders back to Ole Augie, the de facto patron saint of road trippers. "People travel to wonder at the height of mountains, at the huge waves of the sea, at the long courses of rivers, at the vast compass of the ocean, and the circular motion of the stars;" St. Augustine wrote, adding, "and they pass by themselves without wondering."
In the spirit of Ole Augie, I'm sure enough wondering about my own self, and my troubles with Muse. But I'm also agonizing over some larger questions that go way beyond us to all the other lovers who ever tried and failed.
I committed a sin with Patsie that wasn't merely sexual. It was a betrayal, a breach of trust. It was also a violation of what Saint A. called "fidelity." To him, that notion included the positive duty of couples to have sex to help each other avoid adultery and strengthen their mutual bond, even if having kids wasn't in the program.
Coming up on a series of red rock mesas about fifty miles past the middle of nowhere, I start talking to myself out loud like I did back in Pine Mountain, Georgia, babbling in tongues fueled by 5 Hour Energy Drink.
"So what can I -- or anyone else -- do in such a predicament?" I ask. "Can you make up for a betrayal? Can you repair a breach of trust? Is there a means of atonement? Is there a path to redemption? If so, what? And if not, how can anyone ever move forward in this World of Hurt?"
The red rock mesas echo my words without offering any answers.
###
The Golden State is the only one in the Union protected by gates. On Interstate 10, the cross beamed barrier looks like a post-modern version of Checkpoint Charlie at the Brandenburg Gate that once separated East and West Berlin. In honor of my favorite marijuana loving Mexican American comedian Richard Anthony Marin's stage name, I christen it "Checkpoint Cheech." 
During the Depression, California tried to keep Okies and oilfield trash like me from coming in. As the fleet of Border Patrol vehicles parked at Checkpoint Cheech attests, the principal present day mission is to keep illegal Hispanic immigrants out. Checkpoint Cheech's secondary purpose is to prevent the importation of fruits and nuts from out of state. While cynics and bigots might assume that to be an initiative to control the growth of the state's human population, it's official focus is on agricultural products.
Better safe than sorry, I drape a towel over the top of my turtles' pan, and lay a manilla folder and some maps on top of that.
A border guard who happens to be Hispanic peers into the driver's side window of my Smart Car.
"Where are you traveling from, sir?"
"Today I am coming from Sedona, Arizona."
"Are you carrying any fruits?"
"No, sir. I am not."
The guard waves me through Checkpoint Cheech without further ado. It's a semi-triumphant moment. Although my projected ultimate destination remains at least a week away, I've driven 11,621 miles from Sag Harbor to Maine to California, according to my odometer. My dashboard clock shows 1:33 p.m. I realize it's wrong. I'm now on Pacific Time, and I've just gained an hour.
I also realize I've just lost my Texas twang. Maybe it's got something to do with the weather, which is a divinely sunny and dry 76 degrees. Maybe it's the sight of the flat green irrigated fields up ahead and the undulating purple hills off in the distance. Maybe I've been transformed into a fruit or a nut.
Immediately, I start acting like both. I hop off the Interstate next to the "Welcome to California" sign, unfold my tripod, and shoot a stand up holding the turtles' pan in front of my Flip camera. Then I hop back onto the Interstate with my CD player blasting The Doors' "Riders On the Storm." My original plan was to spend the night at a cheap motel in Indio. But I can almost smell salt air, so I say, screw it again and again, and set my sights on Los Angeles.
I guzzle another vial of berry flavored 5 Hour Energy Drink just to make sure my nut 's sufficiently loaded with artificial fructose. I've already been on the road for five hours and nearly 260 miles. With the kind of 360 degree constant concentration driving the Smart Car demands, I already feel like I've been going over 10 hours. L.A.'s 219 miles from Checkpoint Cheech. That sounds like a long haul, and it is. But I figure I can make it in well under four hours if I average 65.
What I don't figure on are minor factors like the time, the day, and the place. It's Friday afternoon. The local loony bins are letting out for the weekend. Every fruit and nut in southern California is spitting their seeds and cracking their shells. The traffic near the border is a moving mountain of thirty or forty eighteen wheelers. At the wind farms outside Palm Springs, it turns into an eight lane Gran Prix race between scores of SUVs, sedans, coupes, convertibles, pickups, custom hotrods, and motorcycles.
Except for the hotrods and the Harleys, most of the vehicles converging on my Smart Car are Toyotas with their notoriously malfunctioning accelerators apparently stuck. I'm keeping it at 65, but a blue 4Runner blows by on my right doing upwards of 85. A black Land Cruiser whizzes past on my left, and overtakes the 4Runner before the next exit.
I crank it up to 70. A white Corolla cuts in front of me, fishtailing through the lane change. A Rav4 tailgates me for half a mile, flicking his headlights. I can't move over quick enough for him because there's luggage blocking the sightline of my rearview mirror. I turn on my lights, and tap the brake. Instead of backing off, the driver of the Rav4 honks and flips me off. Then he splits the gap between me and a relatively slow rolling Prius, nearly sideswiping both of us.
Suddenly, the car in front of me seems to disappear. I realize I'm driving straight into the setting sun. The Gran Prix race is turning into a game of Blind Man's Bluff. Then, just as suddenly, the traffic runs smack into an invisible wall. We're in Claremont, a college town that's become a rush hour parking lot on Interstate 10.
We stop, false start, and stop again. It takes a full 90 minutes to cover the remaining 32 miles to the first downtown Los Angeles exit. The sky turns black and I turn apoplectic purple. Not to worry. The bad traffic and my bad mood aren't going to last. Hey, this is L.A., where nothing lasts longer than three acts.
Act One: Pull over to pull hair, scream at top of lungs, consult Google Maps on IPhone. Act Two: Proceed to Beverly Wilshire Hotel bar, order double vodka martini, let "Pretty Women" on next stool assume you're a movie producer and exchange business cards. Act Three: Proceed to LAX and check into high rise motel.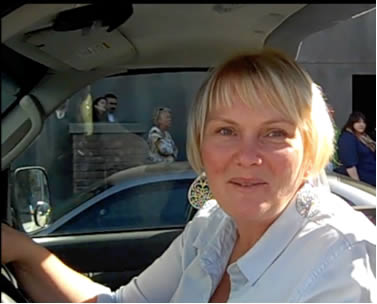 Prior to zoning out, I try to reach Muse on my iPhone. The reception's fine and dandy, but all I get is her voice mail answering message followed by a recording that says her mail box is full. I tap out another text before flopping down on the bed.
"I make it 2 LA. Drive 9 hrs frm Sedona, AZ. Staying in airport motel. Planes pass by window. Wish u were on 1 coming 2 c me. Ur box full. Pls cl. I love u no matter what."
Shortly after midnight, I awake to my iPhone's buzz. There's a text from Muse that address the questions about betrayal and atonement I raised in the Arizona desert.
"I know u try 2 b nice but u scare me," she writes. "Maybe u pick up STD frm road kill or u crash on LA fwy. All 2 much 4 me 2 bear. U can never fix us. We r beyond fix sorry 2 say. U blow ur chance."
###
Over the next three days, Angel City works the hell out of me, but I refuse to throw in Muse's proverbial "dish towel." Against all odds, I convince myself there's still few chances to resurrect our love that I haven't blown yet. The best chance at hand is my "Petrified in the Painted Desert" video. Instead of sleeping in on Saturday, I pop out of bed at 7 a.m., edit the raw clips, lay down the Mel Carter "Hold Me" sound track, and email it to Muse with fingers crossed.
Then I rush around Century City and Hollywood shooting another Flip video for The Art of Shaving, a national chain of men's tonsorial parlors. In return, I get a free haircut and a straight razor shave. Signature line: "If you want to be a star on Hollywood Boulevard, you've got to walk the walk, talk the talk, and most of all, look the look you can only get from The Art of Shaving."
On Monday and Tuesday, I edit the shaving segment and shoot another video about training as a tour guide for Starline Tours. We take off from the Chinese Theater, where costumed super heroes are trolling the Walk of Fame, and drive by houses presently or formerly occupied by the likes of Michael Jackson, Elvis Presley, Warren Beatty, Lucille Ball, Jennifer Anniston, Danny Thomas, Charlize Theron, and Dr. Phil McGraw. My favorite tour stop is Elvis's first Hollywood home: the gatepost is still smeared with lipstick kisses and etched with love notes.
"I think you could have a future as a Hollywood tour guide," my erstwhile trainer declares after our third trip around the star home blocks together. "You seem to have the gift of gabbing about movie stars."
"Practiced with a mule team back in Charleston, South Carolina," I tell her. "What do you average in tips per trip?"
"Forty bucks or so."
"Beats the hell out of caddying in 98 degree heat. Maybe I'll be getting back to you with a job application."
"Only prerequisite is you've gotta have a clean driving record going back ten years."
I groan in dismay. "There goes that."
   ###
On Sunday, I'm looking forward to a light brunch and a day of rest. Wearing jeans, a shirt with no logo, and my cool wrap around "Lone Stranger" shades, I meet up with Roxana, a pal from Sag Harbor who's recently moved to L.A. Roxana's a former rock musician with skinny hips, thin lips, and wavy black hair bisected by streaks of purple. She's now become a chocolatier by trade, and she's brought along some treats: a box of handmade candies and a very powerful joint of marijuana.
We take a walk along the Pacific Ocean. Roxana fires up the joint. One toke leads to another, and pretty soon we end up on the circus like strand at Venice Beach. There's volleyball players, weightlifters, joggers, bikers, hippies, Goths, goons, emos, hobos, sidewalk musicians, and all manner of performance artists, including an African American male in a mask and cape who hoists tourists on his shoulders while pretending to be Batman.
Roxana and I amble toward a blonde surfer dude type in his mid-forties who's pacing back and forth in front of a curio shop wearing a sandwich board and a straw hat with plastic marijuana leaves wrapped around the brim. "$100" is stenciled on the sandwich board in large green numbers. The surfer dude says his name is Tom, and that's the price for getting a doctor to write you a referral for medical marijuana.
"Pot is one of the best medicines on the planet, man," Tom informs us. "I used to run a whole division for a Fortune 500 company, but I was an alcoholic. I hated my job. I hated the people I worked with. I hated myself. I quit my company and started smoking pot. That was eight years ago, man. I haven't had a drink since."
A black dude with Bob Marley dreadlocks ambles over. His name's Vance. He and Tom appear to be well acquainted. "After you're done with the doctor, I can show you where to go to get what you need," Vance says.
Tom ushers Roxana and me into the curio shop, past some glass cases full of trinkets and beads, and into a reception room with plastic wood paneled walls. A chick in her early twenties with fishnet hose, orange hair, and piercings in her nose and ears gets up from a desk and hands me a clipboard stacked with forms.
"I need you to list your symptoms, and put down a local address," she says.
As I sit down in a wooden chair, the joint Roxana and I smoked on the beach kicks in. The forms look harder to complete than an SAT. There are questions about my occupation, medical history, and current medications that require brief essays for full disclosure. Fortunately, the symptoms are multiple choice. I circle anxiety, depression, sleeplessness, and chronic pain, all classic occupational hazards of being a writer.
Bummer, bummer, bummer. The forms require a local address. I don't have one. Roxana makes everything cool again: she says I can use hers.
The orange haired chick photocopies the forms and my New York driver's license. She steps out of the reception room for less than a minute. When she returns, she says the doctor is ready to see me.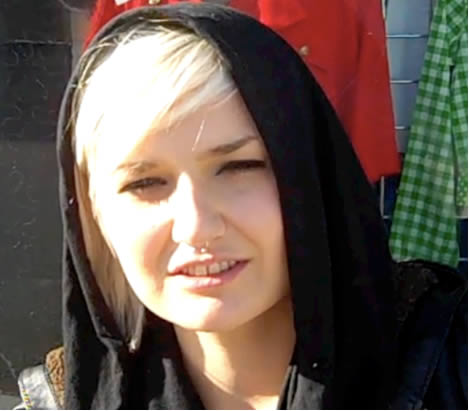 As I walk into an office down the hall, I tell myself to get my act together. This is show time for me as a one man traveling broadband. I need to be taking in every sight and sound, making mental notes. But try as I might, it's no use. Why?
Because... I.... am.... so... stoned...
I see a guy sitting behind a desk who looks like a younger brother of the late Grateful Dead guitarist Jerry Garcia. Round face, sallow skin, beard, glasses, gray T-shirt, stethoscope hanging around his neck.
"I'm Dr. Schlater," he says. "Please have a seat."
Dr. Schlater glances over the forms I filled out. Then he asks me the same questions all over again. I tell him how I broke my wrist at the roller derby rink, and how the joint I got from a friend of a friend in Birmingham did more to relieve my pain than the Vicodin prescribed by the orthopedist.
Dr. Schlater nods sympathetically. He comes around from behind his desk, puts his stethoscope on my chest, and asks me to breathe deeply a few times. He nods again, and sits back down. He writes out my referral on a piece of paper that looks like parchment, signing and dating it.
"As per Health Safety Code 11362.5 the Medical Use of Marijuana, I have evaluated the medical risks and benefits of cannabis use with the patient," the parchment declares. "I recommend/approve of my patient's use of medical marijuana in regards to their current condition. This letter qualifies the patient for 1 year of medical cannabis usage, unless otherwise noted."
All this is happening so fast, I haven't had time to do any background research on Proposition 215, which authorized the use of medical marijuana in California in 1996.   I've heard it's full of legal Catch 22s. For example, people from other states can get a referral like mine, but you're supposed to have a California driver's license in order to actually buy pot at a medical marijuana dispensary.
"It's the wild west out here in terms of marijuana laws," Dr. Schlater says, handing over a five-page printout headed Prop 215 Guidelines. "If you don't have a California driver's license, I can refer you to a dispensary called Inazone where they're not big sticklers about helping people from out of state.
"Just be careful and use good judgment," he adds. "The cops don't like it if you have more than an ounce because they think that gets into selling. They also consider derivative substances illegal, products like cannabis-based nasal sprays and lip balms."
Whoa, dude! Nasal sprays? Lip balms? Sounds like Johnson & Johnson and Vicks are expanding into the medical marijuana field. All this is too much for me to digest at the moment. Why?
Because.... I.... am.... so... stoned....
I fork over a hundred bucks, thank Dr. Schlater for the referral and the advice, and rejoin Roxana out on the sidewalk, where she and Tom are engrossed in conversation.
Moments later, Vance reappears to escort us to Inazone at no charge. The dispensary's located in a cement block building in an alley not far from Venice Boulevard. The front entrance features a steel grilled gate, an intercom, and a sign bearing a bright green cross. I thank Vance for his help, but decide not to buy pot until the following day. Why, dude? Well, for one thing, I spent my last hundred bucks on the referral.
Plus... Roxana.. and... I... are... already... so... stoned...
###
Back at my LAX motel, I get an unexpected cell phone call from Muse. She's just watched my "Petrified in the Painted Desert" video.
"I showed it to my brother, my mother, and a girlfriend of mine in Europe," she says. "My brother thought it was hilarious. My girlfriend said it was quite embarrassing. My mother said you are a good actor, but you are full of crap."
"And what did you think?"
"I think maybe you can fix us, but you have to start all over again from scratch. If we see each other after I come back from Europe, pretend I'm some chick you meet in a bar. You want to make nice so you can take me home and sleep with me later."
"If we see each other? Don't you mean when?"
"Ja, when or if. We play it by ear."
Muse's words are rock and roll hoochie-coo to my ears. I promise her I'll start thinking about what specific things I can do to fix us right away.
"Mean time, I've got some great news," I add. "Doctor on Venice Beach certified me for medical marijuana use in California."
"I hate that crap!" Muse hollers. "I lose my husband to smoking pot! Now you go up the tube!"
"You mean down the tube, not up."
"So you make fun of my Germ-English again."
"Up the tube, down the tube, pot's still a lot better than Vicodin. It kills the pain from my broken wrist." 
"It will kill us, too."
"Nein, I fix us. Just like I promise."
"We play it by ear," Muse says again. "This transatlantic calling gets expensive. I hang up now."
Photograph Captions and Credits: 1. Bartender in Sedona, AZ (HH3) 2. Buddhist nun (HH3) 3. Starline Tour guide (HH#0 4. Venice Beach shopkeeper (HH3)