There's nothing like Intercourse on a sultry summer weekend. I know that intuitively, but I lust to confirm it as empirical fact and make all the attendant sophomoric jokes right there on the spot. I'm also hoping, against considerable odds, to work on an Amish farm. So on a Friday morning in mid-July, I drive southwest from New York City toward Intercourse, Pennsylvania with Muse riding shotgun in the Smart Car.
The dangers posed by driving on the New Jersey Turnpike pale in comparison to the risks we're taking by traveling together again. Muse still hates and/or fears almost everything about my road trip. Plus, she's got to hold the turtles' pan on her lap, a nagging discomfort with the potential to become a skirt-soaking disaster.
"Why the truck drivers keep waving at me?" Muse asks as I exit onto the Pennsylvania Turnpike.
"Don't take this the wrong way," I reply, "but it could be they like the Smart Car."
"This sticker-plastered turquoise wort?"
"There you go again."
"Where I am going again?"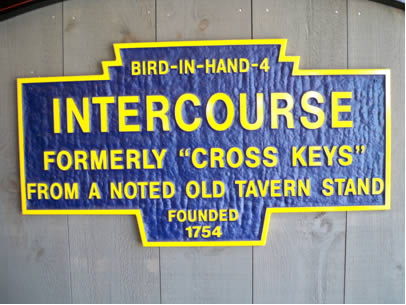 We're going to Intercourse, of course. Green rolling hills fertile with crops punctuated by silos. Nearby villages named Paradise, Bird-in-Hand, and Blue Balls.
We stop at Plain & Fancy Farm, a restaurant-museum-gift-shop complex on Route 340 between Intercourse and Bird-in-Hand. Luck and Muse's gift for languages are on our side. The Amish are known as "Pennsylvania Dutch," but as she knows, that's a misnomer. In their antique native Swiss-German dialect, the word "Deutsch" is pronounced "Deitch."
At Muse's behest, I shell out twenty-five bucks for a buggy ride. Turns out our buggy driver is John "Hansie" Stolzfus, a semi-retired dairy farmer. Hansie is dressed in a wide brimmed straw hat, homespun black pants, and a blue work shirt. He has a gray beard, which indicates he's a married man (the so-called "Plain People" do not wear wedding rings), but no mustache, which the pacifist Amish associate with the military. He doesn't mind if we photograph him. And he's got a dry sense of humor. 
"Reckon the Amish are probably the most environmentally conscious people in America," I say in a transparent attempt to ingratiate myself.
Hansie jerks the buggy to a stop to avoid a car speeding down the highway . "I'm not sure about that," he says. "Wait'll you see my place."
###
Thus begins our crash course in contemporary Amish culture. If environmental consciousness demands a measure of population control, the Amish might never qualify as "green." In fact, they're among the fastest growing populations in the world with an average of 6.8 children per family, according to a recent report by the Young Center for Anabaptist and Pietist Studies at Elizabethtown College in Pennsylvania. In 2008, there were an estimated 227,000 Amish in the U.S. and Canada, up from 165,000 in 1992, a whopping 84 percent increase.
Statistically speaking, Hansie, at age 57, ranks slightly below average, having sired "only" five children and 13 grandchildren. "My ancestor came from Switzerland in 1730," Hansie informs us. "He was Nicholas Stolzfus, the only one they have a record of coming here with that name. He had three boys, but one of his boys had 11 boys, so I guess it took off after that. It's the most common surname in Lancaster County. Literally translates as 'proud foot.'"
The Amish take their name from Jakob Amman, a former Swiss Mennonite leader and so-called Anabaptist, or "re-baptizer," Hansie says. The Anabaptists asserted that infants couldn't grasp the significance of baptism, and therefore insisted on postponing the rite until a person was old enough to make an informed choice.
Jakob Amman split from the mainstream Mennonites, in part because he believed in "shunning" people who violated church rules known as the Ordnung. He  urged his flock to keep themselves as separate as possible from the world of non-believers they dubbed "the English."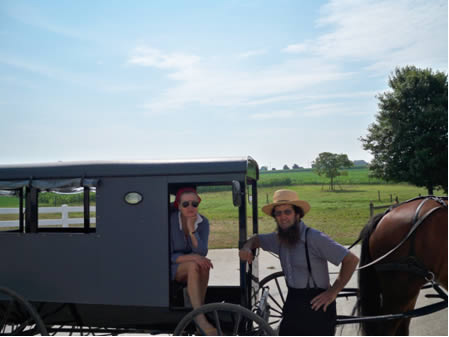 As Hansie steers our buggy down an asphalt lane, he points out the one-room schoolhouse where his grandchildren are being educated. Under a compromise with Pennsylvania state officials, Amish children aren't required to attend school beyond the eighth grade. They're taught in English, but they also learn to read the formal "high German" in which Amish Bibles and hymnals are printed.
"What do you do about children with intellectual inclinations who might want to stay in school past the eighth grade?" Muse asks in German.
"Never heard of one like that," Hansie replies in English.
Hansie confides that his eldest son is a trucker who specializes in hauling handcrafted utility sheds, but he's not shunned from the family. "He spent last night on our couch," Hansie says. "He had to haul a load of sheds at 4:30 in the morning, and he wanted to be sure we'd wake him up if he didn't hear the alarm clock."
Hansie turns the buggy down a rutted dirt path toward his 70-acre farm. Rows of seven foot high corn stalks tower above us on the right. A green ocean of alfalfa wafts in the breeze on the left. There's a cluster of barns and cow pens whose provenance dates back to 1860, and a 70 foot high 1960s vintage silo made of concrete and reinforced steel bars.
 We come to a white clapboard main house now occupied by Hansie's 28 year old son Emanuel "Manny" Stolzfus, his wife Nancy, and their four young children. Hansie and his wife live in an adjacent grossdaadi haus huddled in a grove of oaks. There's a wide array of relatively modern technology in full view: solar panels on the roofs; diesel-powered generators, pumps, milking machines, fans, compressors, refrigerators, backhoes, and pesticide sprayers; propane gas stoves and lights.
"Our church leaders get together twice a year and decide what technology we use and don't use," Hansie says. "So far, they haven't approved electricity. I don't think they ever will."
By the time, we return to Plain & Fancy Farm, I've convinced Hansie to let me work on his farm with his son Manny. I promise I'm willing to start at the bottom.
"That'd be pooper scooper," he says.
###
That evening, Muse and I check into a motel in the heart of Intercourse. It's got a red barn facade adorned with little ovals painted in the patterns used on Amish quilts, and there's an Amish buggy positioned like a statue on a patch of grass adjacent to the parking lot. A sign near the front desk notes that scenes from the 1985 film "Witness" starring Harrison Ford and Kelly McGinnis were shot on the street outside.
I figure Muse, the history buff, is in what her people call "Himmel," but as usual, I figure wrong. She barely speaks to me as we unload the Smart Car, and she frowns the whole time she's unpacking her bags. When I ask her if she'd like to have dinner at the Amish style restaurant at Plain & Fancy Farm, she hollers at me loud enough to wake Hansie Stolzfus's dead ancestors.
"This whole situation is unfair!"
"Beg your pardon?"
"You are just another pretty boy who grows up in the city. I am Tyrolean."
I make the mistake of reminding her that we're in Pennsylvania now, not Austria and that she was born in Salzburg, which has a population of over 500,000 people, roughly the same as my native Houston had during my youth.
"Typical ignorant American," she says, spitting out the words like they're so much dirt. "I am born in Salzburg but I grow up on a farm since I am 10 years old."
Muse launches into what I, the typically ignorant American, call a spiel, and her people call ein geschichte, a story, about her bucolic youth. She says her father, Franz, a tall blond former military surveyor, became a theater set designer after World War II. Her mother, Elisabeth, a red haired raving beauty, became a theater director. They and she, the only child, spent the summers from her infancy to her tenth year at a cabin in the Tyrolean Alps.
All went well in a boringly Bohemian way until Elisabeth met Maxmillian, a prominent playwright with piercing brown eyes and a pointed goatee who drove a Mercedes convertible. Sensing he was being cuckolded, Papa Franz took little Muse to a dairy farm near a lake called Attersee. The farm was owned by his great aunt, Tante Hetti, and it nestled by a stream in a grove of pear and apple trees, whose fruit was used in making schnapps. The farmhouse had a wood burning stove, but no electricity or indoor plumbing.
"I spent the summer between third and fourth grade learning to be a melkerin, what you call a milk maid," Muse says. "My aunt dresses me in a dirndl, and shows me to pull the teats on the udders and spray the milk into steel buckets."
That fall, Papa Franz arranged for his daughter to attend a country day school, and left her in Tante Hetti's care while he returned to Salzburg to deal with the death of his marriage. The academic curriculum of the country school proved to be surprisingly rigorous. Given the cost of tuition and the need for family farmhands, the locals enrolled only the best and brightest of their offspring, giving preference to boys.
 "I am the tallest one in the whole school, and there is only one other girl I like who is the shortest one," Muse recalls. "I get an uber crush on one of the boys named Josef who is so handsome and so cool. He and the other boys don't want me to be around them unless I can do what they can do."
The boys tell little Muse she has to jump off the roof on the schoolhouse into an icy pile of snow. She does as demanded, and twists her ankle so badly she limps around for the next two weeks. But instead of praising her courage and accepting her into his group of boys, Josef orders her not to come near him ever again, which means at least until the end of the school year.
"I am heartbroken," Muse says. "I am wishing I would die. But Tante Hetti will not let me mope around. There is too much to do on the farm. When the vet comes to attend to the pregnant cows, he sees that I have long skinny arms, so he puts me to work. I am taught to reach into the cow and pull out the calf with a rope. I think maybe I will be a vet when I grow up. Then my aunt shows me to discover horses."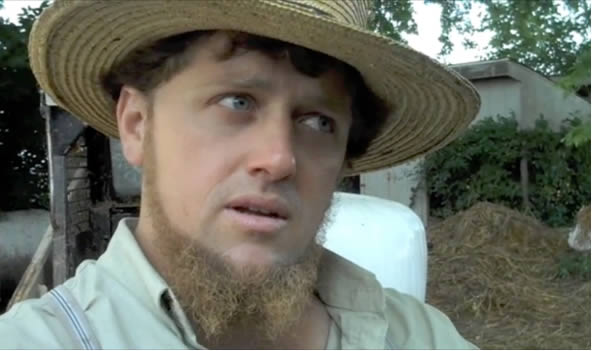 Muses voice trails off. She cranes her head, scanning the interior of our motel room and then pawing at the furniture like she's lost some kind of valuable.
"I am getting hungry," she says at last.
###
I drive us back down the highway in the Smart Car to the restaurant at Plain & Fancy Farm. While we dine on Lancaster County grilled ham steak with cider sauce, Granny Lapp's meatloaf, and a shoo-fly pie of molasses, brown sugar, and spices, Muse resumes her spiel.
"The Haflinger horses on Tante Hetti's farm are used for puling milk wagons, but they make me forget how mean is Josef being to me," she says. "I fall in love with them. It is a good thing because they protect me from being raped."
"Whoa, there," I interject. "How do horses protect you from being raped?"
"It happens when I am mucking out the stalls," Muse says. "One of the hired hands for the summer is a 16 year old boy who lives in the closest village. He traps me against some bales of hay, and starts rubbing himself up against me. He has a hideous odor and he scares me. He puts his hand over my mouth to stop me from screaming. But the horses start kicking their hooves against the stalls. My aunt comes out of the house, and the boy runs away."
"Jesus Christ!" I exclaim. "That's horrible!"
"Ja, everyone thinks of Tyrol that it is all edelweiss like in the movies, 'The Sound of Music.' It is not very much like that at all."
"Guess not."
"Tyrol is also where I first get my phobia of cars. In the winter, I have to ride my bicycle to school through the snow. One day a Volkswagen skids through the road in front of me. I am catapulted over the snout of the VW and knocked unconscious. I don't wake up until my aunt comes to get me." 
When Muse turns thirteen, her parents get divorced. She moves back to Salzburg to live with her mother, Elisabeth, who eventually marries Maxmillian, the writer. Papa Franz buys her a series of lessons at an exclusive riding academy. If the horses she rode on Tante Hetti's farm were like beat up old pickup trucks, the show horses at the riding academy were like BMWs, sleek and quick.
"I fall in love with the dressage horses, too," Muse says. "They make me forget about  my parents and their fighting. After a few of the lessons, I find out already I am a pretty good rider. I muck the stalls at the academy so that I keep taking lessons. Then I am sent off to a boarding school in southern Germany where I learn about boys again and become cynical."
I note that the Amish seem to use horses mainly for pulling their buggies. They also seem to have a pretty strict division of labor along gender lines, with the men doing the outside work and the women doing the inside work.
"That is what's so unfair to me," Muse says. "It feels like I am going back to the country school where the boys won't let me play with them."
On the return drive from Plain & Fancy Farm to the Best Western, I stroke Muse's cheeks until I have what I figure is a stroke of genius. If the Amish won't let her work like a man, she can do something equally if not more valuable to my road trip project: she can shoot my farm working gig with one of my Flip cameras.
"Ja," she says. "I think already I will be better with the camera than you."
"Oh, yeah? Why's that?"
"My next to last boyfriend before you was a very important filmmaker."
###
Muse and I return to the Stolzfus farm in the Smart Car at 7 a.m. the following morning, cocks crowing and cows lowing. Manny Stolzfus comes out to greet us with hands on the hips of his homespun Amish pants. He has extraordinarily large and luminous light blue eyes which I reckon every film star in Hollywood would envy. I ask what he wants me to do.
"I don't care," he says. "Do you know how to bed the box stalls?"
I pull on a pair of black rubber muck boots, and spend the next hour spreading bales of corn straw around the square wooden stalls that house the farm's three standard-bred horses and six mules. It's about half a step up from pooper scooping, and within five minutes, I'm working up some good old fashioned muscle aches, and a bad cough caused by the corn dust.
Muse films away with the Flip camera, feeling artsy. "The shadows are like something out of Fritz Lang," she says.
I am once again reminded of why I love her so. Who else could enter a box stall at an Amish farm in Intercourse, Pennsylvania, shooting a video with a Flip camera she's just learned to operate, and make a spot on direct reference to an avant garde European director perhaps best known for a film called "Metropolis" set in an urban environment ostensibly the diametrical opposite of where we are now? Oh, yes, and BTW: who else could look so simultaneously sexy and down to earth doing it?
"Ich habe dich etwas lieb," I say, which is German for, "I'm rather fond of you."
"Danke," Muse replies.
I finish bedding my seventh box stall shortly before 8 a.m., and start in on the cow pens. Hansie enters the barn, grinning ear to ear.
"You're sweating already," he says.
"Ja," I reply. "And if you'll excuse me, I've got more work to do."
Muse asks Hansie where he bought his horses and what he does with them when they're too old to work anymore.
"We buy 'em mostly off the racetracks, one's that are too slow to win," Hansie says. "Horses we sell, they probably go to Canada for slaughter. The French like horse meat."
Muse's reaction almost brings me to tears.
"Eeee-yow!" she wails. "This is murder!"
Afraid that an awkward confrontation is in the offing, I beat a hasty retreat to join Manny at the milking operation in an adjacent section of the barn. He has 43 black and white mottled cows tethered to four milking machines. A network of Freon lines links to a 1,000 gallon refrigeration tank that keeps the milk at 36 degrees Fahrenheit. The cows yield around 350 gallons every 24 hours. A Land O' Lakes tanker truck stops by the farm every second day to pick up the milk.
Hansie appears with Muse in tow. They've evidently gotten over their differences about the horses, but Muse has a new concern. "The poor cows are mooing," she says, frowning. "I think they need to be milked."
"Manny does the milking every 12 hours," Hansie informs her. "Once at 4:30 in the morning, and then again at 4:30 in the afternoon."
Much as I'm starting to appreciate the natural rhythms of farming, I can already see it's not a potential career for me. That first 4:30 is way before my accustomed wake up call. Plus I'll never be Amish. Which may not be such a bad thing after all. Hansie doesn't own a computer or a TV set, but he's well aware of how the U.S. financial crisis has affected local dairy farmers, and it's not for the better. He complains that over the preceding 24 months, milk prices have fallen from $1.75 a gallon, which was enough to make a decent profit, to only $1 a gallon.
"Young farmers like my son are losing a couple thousand dollars a month," he says. "I think the country's importing too much milk. And with the economy the way it is, maybe people ain't eatin' as much cheese and ice cream. The government is bailing out the big banks and the big companies, but they ain't doing enough to help farmers."
A few minutes later, Hansie departs for his buggy driving gig at Plain & Fancy Farm. I follow Manny into the silo, where I shovel silage composed of chopped corn stalks mixed with apple mash into a wheelbarrow. After we feed the silage to a row of heifers outside, Manny points to a bull with a chain in his nose kicking up dirt in a nearby pen.
"Just got him a couple of months ago, and had a couple of heifers didn't settle," Manny says. "Bull was gettin' mean. I didn't trust him out in the meadow anymore. So I talked to the guy I got him from. He has bulls all over the place. He said, 'Put a chain on him, about a six foot chain. Put a ring in his nose, put a chain on it. If he starts runnin', he'll step on his chain and pull his head down.'
"Don't say that so loud," I admonish Manny. "Someone we know's gonna put a chain in my nose."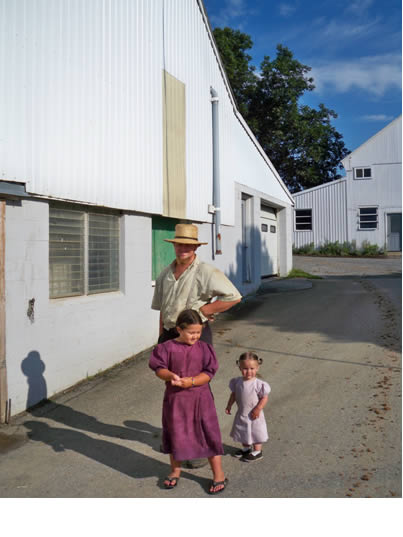 Manny throws back his head, roaring with laughter. His wife Nancy comes out of the barn to see what all the commotion's about. She's wearing a head scarf and a blue ankle-length cotton dress, and she's holding an infant girl in her arms. Their four year old son Matthew trails behind her clutching a pink toy cellphone. I feel an onslaught of sadness. If Amish pre-schoolers are already playing with toy cell phones, the days of the Old Order are surely numbered.
The six of us walk back out to the barnyard. It's half past eleven. My shirt and pants are splattered with dirt, my boots caked with muck. I pop open the tailgate of the Smart Car, and pull out a wide brimmed straw hat with a black band that I bought at a shop in downtown Intercourse the day before. I pose beside Manny in front of the barn while Muse shoots a closing scene with the Flip camera.
"Have I earned the right to wear one of these hats, do you think?" I ask.
"Ja, sure," Manny replies, laughing again. "I don't care."
                         #                                  #                                  #
When we return to our motel, there's just one item left on the day's agenda :making a satirical R-rated video about Intercourse. Muse and I race out to a bunch of local shops, where I shoot tourists buying Amish knickknacks and make goofy puns and innuendos in my voice-over narrative about how much they love Intercourse. I want someone to explain how Intercourse got its name, supposedly from an old horse track called Entercourse. I ask Muse to dress up like an Amish woman, but she doesn't want to cooperate.
"I hate this kind of thing," she says. "My mother was always making me wear stupid costumes and say stupid things for her plays. When she directs a play about King Arthur, she makes me put on a cone hat with a veil. My floppy ears stick out of the cone hat, so she yanks it down over my eyes. Then she sticks me in the very back of the stage. I am supposed to be the lowliest lady of the court. It was awful, awful, awful."
"Why was it that awful?"
"My mother never let me play the princess."
"My mother was a trip, too, but I'm not your mother."
"I do not want my face on your camera."
"But your face is so beautiful."
After much sturm und drang, I finally persuade Muse to let me shoot her from behind. Her face won't appear on the screen, only the back of her head in an Amish bonnet. All she has to do is say a few lines of antique German, which I'll then translate for the English speaking audience.
The first take is a disaster. Muse speaks so softly I can barely hear her even though I'm less than two feet away.
"Bitte, you've got to talk louder," I plead.
Take two is also a disaster. So are takes three, four, five, and six.
"Louder!" I holler at her. "Talk like I'm talking now!"
"Stop it!" she hollers back. "You promise to stop your yelling!"
"That's perfect! Just say the lines like you're mad at me!"
"I am mad at you!"
"Great! Then let me have it!"
Although take seven is hardly a prime time quality sound bite, it's at least audible. But Muse refuses to do any more takes. Instead, she runs back into our motel room, crying. I turn to the clueless male's first resort in the kiss-and-make-up department: I offer to take her out for a Champagne dinner at a fancy restaurant.
Good idea, oafish execution. The Revere Tavern in Paradise is a stone building constructed in 1740, an ostensibly perfect spot to placate my history loving Muse. The lump crab cakes are the most delicious I've ever eaten. Muse raves about the prime rib aus jus. I'm back in my earlier celebratory mood. A little too far back, unfortunately. I precede our bottle of Champagne with three perfect margaritas, and top off our tiramisu dessert with a couple of Cognacs.
It's all I can do to steer the Smart Car back to our motel in Intercourse without running into a streetlight or an Amish buggy. I fall face down onto the bed, too drunk even to kiss Muse goodnight much less engage in the activity I've spoofed all afternoon in Intercourse.
###
Next morning, I'm vituperatively attacked by the microscopic little bastards with ice picks. Muse is in a subdued mood all the way from Intercourse to Philadelphia, where I drop her off at the train station. She heads north to New York. I head south on the next leg of my road trip. Shortly after arriving in Washington, D.C., I get a text.
 "Want us 2 break up," Muse's message declares. "Cant b w/ a man who drinks so much & stays in cheap motels."
Shit! Instead of kiss and make up, we're on the road to piss and break up. I call Muse on my iPhone, apologizing for getting wasted and begging her to reconsider.
"Why do you want to be with me?" she asks.
"You give me great joy and companionship."
I hear her gagging on the other end of the line.
"What's wrong with that?" I ask.
"It's so corny."
"Yeah? Well, why do you want to be with me?"
"I don't."
"Okay, why did you want to be with me?"
"I like that you are a writer."
"That's even worse than corny. You said we were so good working together on the Amish farm."
"It's true."
"Then give me another chance. At least think about it. Please."
"Okay, we see what will be what."
Photograph Captions and Credits: 1. Intercourse sign (HH3) 2. Tourist and Hansie Stolzfuz, Intercourse, PA  (HH3) 3. Manny Stolzfus (HH3) 4. Manny Stolzfus and daughters (HH3)